Who we are
VoterTide is a young, Midwestern-based company that has worked for years to develop web-based tools to help individuals and organizations make sense of the new media landscape and harness the power of social media to accomplish goals and effect positive, meaningful change.
Where we stand
We are politically nonpartisan. We are on the side of the voter, and we view the growth of online communities as the most powerful agent of American democracy. Our goal is to increase communication between voters and candidates by fostering dialogue, enabling the sharing of information, and promoting transparency.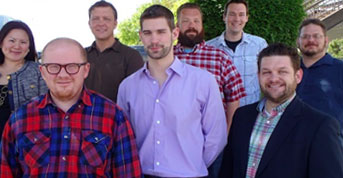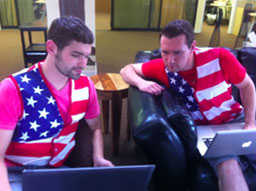 The VoterTide Team
Jimmy Winter
Co-founder
Jimmy is the Chief Architect of VoterTide and RockDex. He has 11 years of experience in the music industry, both on the technology side and in label consulting, concert promotion and booking. He has also worked as an IT professional for over a decade, consulting for companies in the entertainment, financial management and educational fields. In 2006, Business Week named Jimmy one of the 25 Best Entrepreneurs Under 25.
Shannon Schlappi
Co-founder
Shannon has been working professionally in the music business for 15 years. An early proponent of Internet technology adoption for musicians and online social networking tools to foster and nurture organic fan communities, Shannon launched Punknews.com in 1996 with help from David Snodgrass. One of the first Internet-based social music communities, Punknews became a testing ground for new technologies and music discovery. Shannon also advises and acts as label manager of Doomtree Records. Shannon has run many successful labels as well as having worked in retail distribution for Harvest Media Group. Shannon has been instrumental in helping emerging artists build long-lasting careers and fan communities.
Gordon Whitten
Chairman
Gordon Whitten is a Serial Entrepreneur and Tech Executive with a track record of success. He built Income Dynamics, Inc. and its principal software product "ItsDeductible." The company was acquired by Intuit in 2004, makers of TurboTax, QuickBooks, and Quicken. Then, as an Intuit Vice President, Whitten launched several new products for small businesses under the Intuit umbrella. In 2007, he left the company to found Sojern, Inc. a unique award-winning online marketing and travel advertising business partnered with the top airlines in America. Whitten has twice been named an Ernst & Young Entrepreneur of the Year Finalist in Technology for the Midwest region, and at Intuit, he was awarded the CEO's Leadership Trophy. On Saturdays in the fall he is cheering on the Huskers. At other leisure times he can be found behind the wheel of his favorite high-performance cars.
Marq Manner
Social Strategist
Marq Manner has been a music writer for the past fifteen years writing for The Reader, Omaha City Weekly, and Shout! Omaha. His first writing gig was for Omaha's first major social networking site SlamOmaha.com during the later half of the 1990's. Marq also managed independent record store Homer's Music for 15 years, has managed bands, booked venues, and has owned his own production and promotion company. Marq has spent the past few years in Medicare research for a major conglomerate of health insurance plans. Almost as much of a political junkie as he is an obsessed music fan; the desire to once again work with something he is passionate about and his belief in the Voter Tide platform has brought him here.
Jim Green
VP of Business Dev.
Jim Green comes to VoterTide with over 10 years of political and business development experience. He was formerly with NGP VAN, Inc. Before that, he was the Campaign Coordinated Director for his home state of Nebraska during the 2008 presidential election cycle, where he ran three statewide offices leading over 40 staff members in turning out the vote at all levels. Jim is a veteran of campaigns, working in over ten states and fifteen campaigns since 2004. He earned a B.A from Saint Louis University in Marketing and his MA from the George Washington University School of Political Management with a concentration in Legislative Affairs. He was born and raised in Omaha, Nebraska where he was the fourth generation to walk across the stage at Creighton Preparatory High School. He resides in Arlington, Virginia.
Leah Frelinghuysen
Senior Advisor, Comm. & External Affairs
Leah Yoon Frelinghuysen brings more than a decade of professional political, communications, advocacy and government relations experience to her role as Senior Advisor of Communications and External Affairs. A former communications director and spokeswoman for two presidential campaigns and two high profile broadcast networks, she has extensive experience in implementing high impact and results oriented public relations strategies. She has also served in senior government relations roles for the City of New York and the Department of Homeland Security. She started her career at VH1 Save the Music and was one of the original members of the team that helped launch the national music education initiative.
Nick Carl
Social Strategist
Nick comes to us from the world of academic research. He spent three years as a Field Entomologist in a joint study between a state university and the CDC. Through being in a band and promoting his music online, Nick has come to deeply understand the world of social media and what makes it tick.
Matt Barr
Systems Architect
With strong skills and background in engineering, statistics, and parallel processing, Matt has been a perfect fit at VoterTide as Architect. Although Matt created several websites and side projects of his own during his college years, he had been designing and programming software professionally at Kiewit Engineering and LeaseTeam Inc. for 4 years before joining the team as Systems Architect. He brings the math and large-scale processing know-how necessary to run a site as ambitious as VoterTide.
Paul Graff
Programming Intern
Paul is currently a senior at the University of Nebraska-Lincoln studying Computer-Science. As a software-development intern, he has gotten his hands dirty developing features of the web application. Whether he's coding in Python or working on some Javascript, his passion and focus for writing elegant code is apparent. Paul's hobbies include reading, rock climbing, and pursuing decadence.
Annemarie Weiner
Design Intern
Annemarie is a Graphic Design/Digital Design and Development major at Creighton University. Her passion for perfection makes her feel right at home with the VoterTide team working to ensure that everything looks good. A true design nerd, she likes to spend her free time memorizing hexicadecimal colors and discovering new typefaces.